Restaurants & Bars
Luxury Bahia Principe Cayo Levantado - Adults Only - All Inclusive
Restaurants
In all the resort's restaurants and bars expertise, professionalism and, above all, quality are king. Our chefs attend to even the smallest details of the dishes of the various specialities of the à la carte restaurants. In the Orquídea buffet, for example, they'll cook in front of your eyes in the Cooking Show, or if you prefer you can choose the à la carte dishes of the 24-hour a day room service.
And the all-inclusive gives you unlimited dinners in any of the resort's à la carte restaurants, booking required in public relations.
Bars
You'll find 6 bars, located at various points in the complex, from the lobby to the beach and even in the pool. And at the Snack Bar you can enjoy American style food and the buffet from 10 a.m. to 6 p.m.
Also, now we have a new cocktail lounge with a chill-out atmosphere where you can try the best international cocktails.
Main Restaurant
Don Pablo Gourmet Restaurant
Medi-
terráneo Restaurant
Portofino Italian Restaurant
Bars throughout the resort
Pool Bars
Beach Bars
Main Restaurant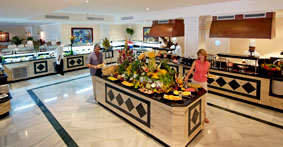 Orquídea Restaurant, international cuisine buffet
Breakfast, lunch and buffet dinner with traditional dishes from international cuisine. 7 Theme nights per week by country. Smoking is not permitted, except in the marvellous terrace with views of the ocean and Samaná Bay.
Don Pablo Gourmet Restaurant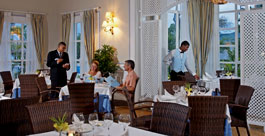 À la carte restaurant with the most exquisite international gourmet cuisine, with romantic candlelight, melodic music and attentive, meticulous bell service....
Entrees
The Prince and the Princess, (lobster and sirloin steak)
Centre of Iberian pork loin
Chocolate fantasy
Mediterráneo Restaurant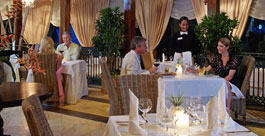 À la carte restaurant with typical Mediterranean gastronomy: Spanish, Greek, Maghrebi......
Entrees
Caribbean lobster with fresh tomato and grated cheese
Mare Nostrum Sirloin with foie sauce
Curried lamb with couscous
Portofino Italian Restaurant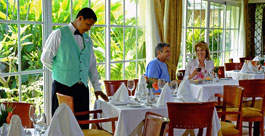 À la carte restaurant where you can try traditional Italian cuisine....
Entrees
Selection of "Porto Cristo" style bruschetta
Lemon Scallopini
Penne Rigate
Chocolate mousse and Amaretto cake
Bars throughout the resort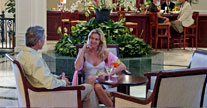 Everything you would like to drink in any of our bars and Snack Bar, is included in the price of your reservation. Cocktails, soft drinks, juices, local alcoholic drinks and a selection of international drinks.
Pool Bars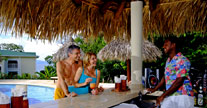 You'll find our bars in the pool or in the outdoor Jacuzzi so you'll never want for anything while you take a dip or relax in the bubbles. A mojito or a "Banana mama"?
Beach Bars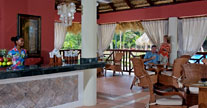 A bar, a beach, order whatever you like, we'll encourage you to try our star cocktails: caipiriña, piña colada…And you'll have more fun that you can imagine on our beaches, on Cayo Levantado island.